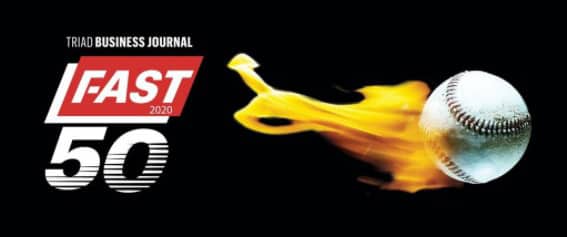 Omega Named #2 of the 50 Fastest Growing Companies in the Triad
Below you'll find the profile on Omega posted by Triad Business Journal. Click here to see the original post.
What does your company do or make? Commercial General Contractor
Industry: Construction
Year founded: 1975
Top Executive: Barry Hennings, President
City: Winston-Salem
Website: omegaconstruction.com
2019 Revenue: $182.9 million
No. of Triad employees: 75
Your company has "hit it out of the park" qualifying for Fast 50. Tell us how your company has grown in the last three years: We have a lineup of consistent performers that deliver positive results year after year. Our industrial/distribution market has had an outstanding performance in 2019 deserving of MVP consideration. The industrial/distribution market revenue is up 50% year over year and is definitely our MVP for 2019. Our Savannah office will be a candidate for Rookie of the Year as it exceeded revenue expectations for 2019.
What's in your company playbook that makes it successful? Our roster of employees (seasoned veterans along with strong young talent) is what helps us win the game. Effective Oct. 1, Omega segregated its business into four operating divisions – industrial/distribution, retail, Triad and Georgia.
Do you have plans to grow your team or business? We are looking forward to the next two years' collegiate draft in order to backfill the promotions of a few of our young project managers. We are also looking to grow our industrial/distribution, retail (grocery-store based) and Savannah markets as these markets have continued to perform better than the overall economy.
How has your company pivoted to deal with the pandemic? Have you taken any losses? The pandemic threw us all a curve, but we have committed to our employees to keep everyone fully employed, which has kept the employee morale very positive during this pandemic. Our office employees have all remained focused while working from home, helping us maintain a consistent revenue. While we lost a few hospitality and commercial opportunities, the other markets we operate in (industrial/distribution, grocery-based retail and the Savannah market) have more than made up the difference.