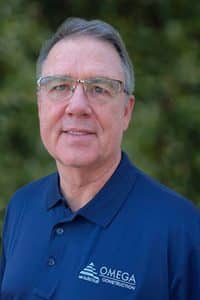 Don Warren to Lead Omega Construction's Newly Established Upstate (SC) Division 
Greenville, S.C. – October 5, 2022: Omega Construction, one of the Southeast's leading general contracting firms, has tapped industry veteran Don Warren, FDBIA, to lead their newly established, full-service Upstate South Carolina operation. Warren joins Upstate-based John Fordree, Business Development, who joined Omega in April 2022.
"Omega Construction is opening a permanent Upstate Division in Greenville to serve our current and new customers in the manufacturing, industrial/distribution, and commercial markets – and we are excited to welcome Don to the Omega team. By the end of 2022, we expect to have three projects totaling more than $50 million under construction out of our new Upstate location," said J. Barry Hennings, P.E., President & CEO of Omega Construction. 
Warren has a 30-year legacy of successful design-build project delivery throughout the Southeast. He is one of the five founders that launched the Design-Build Institute of America (DBIA) in 1993 – and the only one from the Carolinas. In 2002, Warren was the first in the Carolinas – and one of the first in the nation – to become certified as a Design-Build Professional by DBIA.  Sixteen years later, Warren was the only nominee from the Carolinas to be inducted into the Inaugural Class of DBIA Certified Fellows. He currently serves as a national DBIA Instructor.
Warren graduated from North Carolina State University with a Bachelor of Science degree in Civil Engineering – Construction option. He is a licensed General Contractor in South Carolina, North Carolina, and Georgia. Warren is a past board member of the National Center for Construction Education and Research (NCCER) and has been a member of the American Arbitration Association (AAA) National Roster of Neutrals since 2006.
About Omega Construction
Omega Construction is a privately-owned General Contracting firm headquartered in Winston-Salem, NC, with division offices in Savannah, GA, and most recently Greenville, SC. Omega provides General Contracting, Construction Management, Design-Build, Preconstruction, and BIM services to its customers. Omega is licensed in 11 southeastern states and has served the construction needs of its customers for over 45 years with its portfolio including the manufacturing, industrial/distribution, retail, commercial, historic preservation, and charter school markets. 
To learn more, visit omegaconstruction.com.