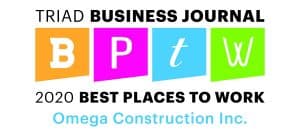 Omega Voted #3 of the BEST PLACES TO WORK in the Triad!
On Thursday, 10/8/2020, the Triad Business Journal held its annual Best Places to Work in the Triad awards ceremony and Omega is proud to announce its place among the top three! This year also marked Omega's 5th consecutive year as a finalist for this honor. Below is an excerpt from our
winning interview with President & CEO, Barry Hennings:
Why should your employees consider your organization a Best Place to Work? It starts at the top. Our management team sets the tone for the entire organization. Employees are valued and they are treated fairly. A mutual respect exists between the employee and the organization. There is a sense of family among our employees. Employees feel empowered and the organization actively helps employees reach their goals. And the organization in constantly looking for ways to improve.
Covid-19 has been terrible for everyone in the world. But, this event is about celebrating success. Tell us some of the good that has come out of the bad. It is an opportunity for companies to show that they care for their employees. It is also an opportunity for companies and employees to innovate.
What specific programs or actions has your company implemented to make it a Best Place to Work for employees? Our company has revamped its training program and processes. Our program provides a structured plan for employees to progress. Our career paths are clearly defined. Performance goals are communicated and employees are evaluated regularly.
How does your company invest in its employees? In-house training program, company-sponsored continuing education opportunities, performance evaluations, performance improvement plans, mentoring/coaching opportunities, and our internship program.