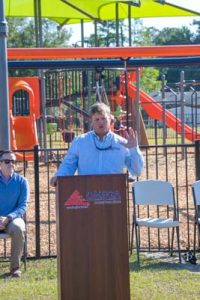 OMEGA DEDICATES SENSORY PLAYGROUND AT THE MATTHEW REARDON CENTER FOR AUTISUM IN SAVANNAH
Omega Construction was honored to participate in a dedication ceremony for the new sensory playground at the Matthew Reardon Center for Autism in Savannah.
Omega's Georgia Division facilitated the design and installation of the new playground, the surrounding new fence, and assisted in the school's fundraising efforts.
"It was important to me that the wonderful people who donated their money and their time, get to see firsthand these special children enjoying the new playground," said Todd Mayo, Vice President – GA Division.
"Unlike standard playgrounds, this design was catered specifically to the needs of the school and its students to aide their social and physical development. Outside of therapies, it is a real-life opportunity for them to practice cooperation and develop the social skills many Autistic children struggle with. Stimulation and movement for kids with autism is also vital and each new piece of playground equipment was chosen to specifically to target different sensory and motor functions and assist in the students' development," said Mayo. "We are so grateful to the families, staff, and children for letting Omega be a part of this project!"
The Matthew Reardon Center for Autism is a year-round day school for children, teens, and young adults with special needs. The second phase of the sensory playground project is currently in the fundraising stage.
If you would like to donate or would like more information, please visit https://matthewreardon.org/