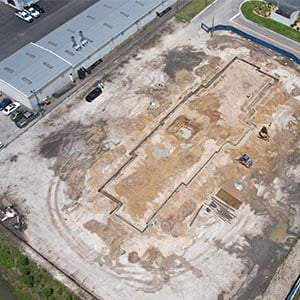 OMEGA CONSTRUCTION BREAKS GROUND ON NEW WOODSPRING SUITES OFF CHATHAM PARKWAY
SAVANNAH, GA – Omega Construction's Savannah Division broke ground this week on construction of a new WoodSpring Suites hotel, part of Choice Hotels International.
With more than 200 locations in the U.S., WoodSpring Suites hotels offer extended stay guests a welcoming environment and straightforward stay – all affordably priced. Each property is newly constructed and built to anticipate the needs of travelers looking for a longer-term stay. Properties feature all-suite rooms with fully equipped kitchens, flexible workspaces, and guest laundry facilities. Additional amenities include: Expanded lobby with a coffee station, free Wi-Fi and guest parking, and a 24-hour fitness center.
Located at 115 WoodSpring Drive, the new Savannah location is locally owned by Parkway & 17 Hotel Partners and adjacent to the popular commercial district at the corner of Highway 17 and Chatham Parkway and a short drive from many of the largest employers in Chatham County.
Omega Construction's Savannah Division Vice President, Todd Mayo, said,
"We are thrilled to partner with Parkway & 17 Hotel Partners to bring the WoodSpring Suites to Savannah. The passion and expertise, along with the proven track record Mike Patel and his team bring to the hospitality market in Savannah, really attracted us to this opportunity. We hope this is just the first of many great projects we take on together as they continue to define their local portfolio."
The project is expected to take 11 months to complete.