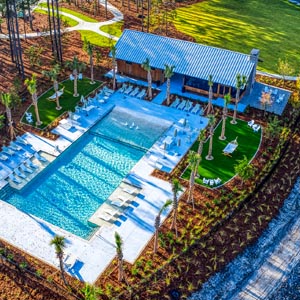 OMEGA COMPLETES HEARTWOOD OUTFITTERS FOR RICHMOND HILL COMMUNITY
Inspired by the beauty and durability of the forests, Heartwood is a new community in Richmond Hill, Georgia, consisting of approximately 7,000 acres located at the corner of Great Ogeechee Parkway and Belfast Keller close to the new I-95 interchange. The new community will help set the stage for years of growth and development in the area and the amenity center is a cornerstone of this movement. The Heartwood Amenity Center, Outfitters, is designed to support a lifestyle that spans generational needs and is the neighborhood hub and heart of the master-planned community. Children can walk or bike to highly ranked schools and residents can grab coffee before work while neighbors make plans to end the day poolside.
The project features a green space for community activities, a playground, health and wellness opportunities, a community pool and pavilion, and nature trails. A nine-acre pond is nestled between an 8,300-square-foot amenity building and a 2,500-square-foot pool building. Both offer assembly spaces, restrooms, and storage areas with the larger incorporating office spaces and prep areas for staff members.