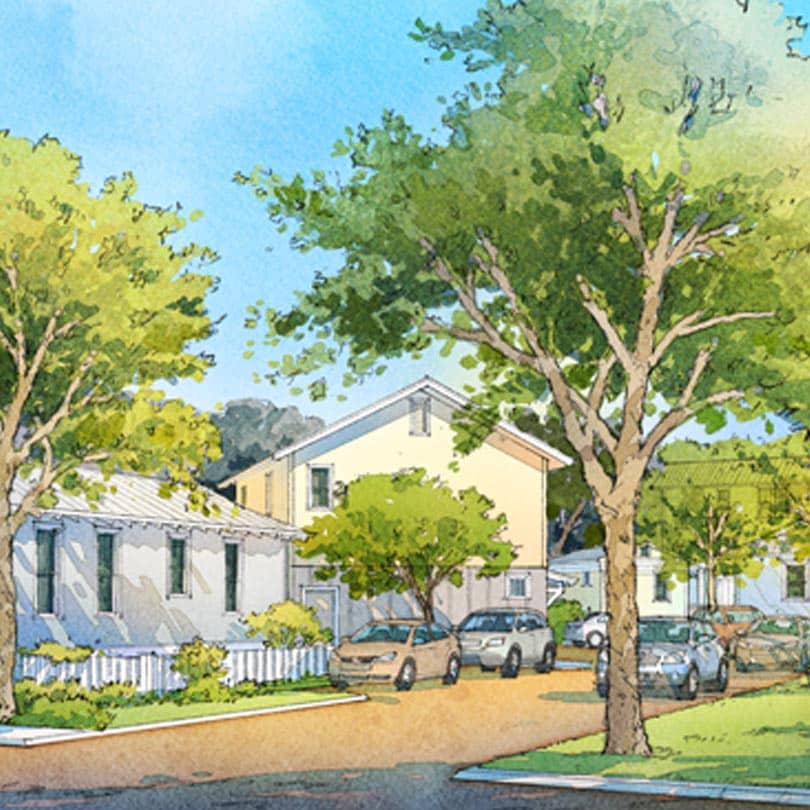 OMEGA BREAKS GROUND ON VILLAGE ON THE BLUFF IN THUNDERBOLT
 SAVANNAH, GA – Omega Construction's Georgia Division held a ground-breaking ceremony on September 30th for its latest project, Village on the Bluff, in the town of Thunderbolt on the Wilmington River. The new development will include single family cottages and a 3-story mixed-use building with commercial space on the ground floor and apartments above.
"Having been involved with the Town of Thunderbolt and Tubby's Tank House for over 30 years, we are proud and excited to be part of what we believe to be a distinguishable living opportunity at our quaint little Village on the Bluff, said Ansley Williams, President of Live Oak Restaurant Group. "It is our aim to further enhance the allure that is Thunderbolt and the seafaring lifestyle we so enjoy and share with our friends and neighbors here and believe the Village will be welcomed by all!"
"After living, building, and renovating in Thunderbolt, I have come to appreciate the unique character of our area and its residents", said Laurie deVegter, of Laurie deVegter Consulting.  "I am proud that the Village on the Bluff was the first project approved under the Town of Thunderbolt's new design guidelines. As we actively collaborated with the Town, we came together and put forth a reflection of coastal living at its best.  I am elated that we are moving forward with such amazing local partners like Victory Gardens and Bank South. I expect that the Village on the Bluff will create ample opportunities to build community in a place that is so special in my heart and the lowcountry."
Omega's portfolio includes many notable mixed-use and multi-family developments across the Southeast including the Grove at Ardsley, currently in the second phase of construction. Similar to the Grove at Ardsley, Village on the Bluff has been carefully designed to integrate with the architecture of the surrounding historic homes and capture the allure of gracious waterfront living.
Todd Mayo, Omega's Georgia Division Vice President, feels Village on the Bluff will be a great complement to the Company's diverse portfolio. "For us, it's not just about the project, it's about contributing to the community of Thunderbolt", said Mayo. "Bringing this project to life will offer new opportunities for people to come and experience why this neighborhood is so special.  We are thrilled to partner with Ansley and Laurie on such a unique venture."
Additional project partners for Village on the Bluff include Raymond Engineering, Flippo Civil Design, TAK Architecture, BankSouth, Victory Gardens, and Laurie deVegter Consulting.
The Village on the Bluff project is expected be complete in the Fall of 2022. Visit VillageontheBluff.com for more information.