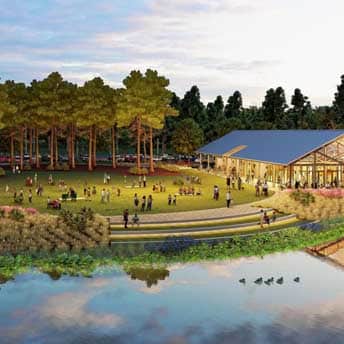 Omega Breaks Ground at Heartwood in Richmond Hill, GA
Omega Construction's Georgia Division began construction in July on its latest project, the amenity center for Richmond Hill's newest development, Heartwood at Richmond Hill. The project is located at the corner of Great Ogeechee Parkway and Belfast Keller (a half mile East of I-95 at Richmond Hill's new interchange, Exit 82). Heartwood, a planned mixed-use community, is currently under development by Raydient, a subsidiary of Rayonier (NYSE:RYN).
"We are excited to kick off the first phase of Heartwood with this project," said Bill Cunningham, Director Community Development for Raydient. "We will call it Outfitters, and it will be the heart of our community, featuring a green space for community activities, a playground, health and wellness opportunities, and a community pool and pavilion."
Omega's portfolio includes many notable mixed-use developments across the Southeast including the recently completed Latitude Margaritaville Town Center in Hardeeville, SC, which is similar in scope to the new Richmond Hill project.
Todd Mayo, Omega's Georgia Division Vice President, feels the Heartwood amenity will be a great complement to the Company's growing Amenity portfolio. "We are honored to have been chosen by Rayonier to build this first phase of Heartwood.  It is going to set the stage for years of growth and development at the new I-95 Interchange. Omega has been really pleased to see the growth of the Richmond Hill community and look forward to being a part of all the progress and expansion to come", said Mayo.
The project is expected to be complete in the Spring of 2022.