Omega Announces New Operating Divisions

WINSTON SALEM, NC AND SAVANNAH, GA – As a result of Omega Construction's continued growth as a trusted builder across the Southeast, and in an effort to better serve our customers and markets, we are excited to announce the creation of four operating Divisions within the Company.  Effective October 1st, 2020, Omega's operations will be segregated into four operating Divisions – the Industrial/Distribution, Retail, Triad, and Georgia Divisions.
With the creation of these new operating divisions, Omega is promoting four of its most accomplished senior managers to Vice Presidents, leading the newly created Divisions. Kirk Matthews will oversee the Industrial/Distribution Division, Dustin Hunter will oversee the Retail Division, Matthew Cave will oversee the Triad Division and Todd Mayo will oversee the Georgia Division.  Each of these employees have demonstrated their leadership skills, their ability to successfully execute projects, as well as their dedication and commitment to Omega Construction, our customers and employees.
President and CEO, Barry Hennings stated, "We are extremely excited about this next step in the growth of Omega Construction.  We are blessed with many great Customers who have contributed to our growth and are fortunate to have employees of Kirk's, Matthew's, Dustin's and Todd's caliber stepping up to lead these new Divisions.  I look forward to seeing how these Divisions will grow and prosper under their leadership."
The Divisional Vice Presidents will have executive responsibility for their respective Division's operations including business development, preconstruction, estimating, project management, training and field operations, along with bottom line financial responsibility.  They will also be responsible for their Divisions' client development and maintaining client relationships.  The Division Vice Presidents will report directly to Barry Hennings, President and CEO of Omega Construction.
Omega Chief Financial Officer Greg Marshall commented, "Our four new Division Managers have been extremely successful in achieving consistently impressive results for Omega and our customers by managing their projects to make sure they are completed on time and within budget.  They have each developed into leaders within the company, and they have lived out Omega's motto of "We Build Trust" by building long term trusting relationships with Omega's customers, subcontractors and employees.  I'm excited to see them step up to help lead Omega into the future."
Below is a brief bio of each of the four Division Vice Presidents.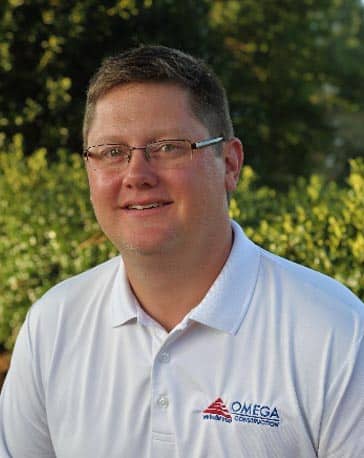 Kirk Matthews – Vice President – Industrial/Distribution Division
Kirk joined Omega Construction in 2012 as a Project Manager after previously working with John S Clark Company. Kirk is a Registered Professional Engineer in North Carolina and holds a Bachelor of Science degree in Civil Engineering from the University of North Carolina at Charlotte.  Kirk has attained the LEED BD+C Accreditation from the US Green Building Council.
Kirk has had the opportunity to lead many different types of projects within the industrial market during his career.  Some of the more notable projects include Caesarstone Technologies USA's first US manufacturing facility, multiple projects for Merck Pharmaceuticals and a refrigerated warehouse for Bay Valley Foods.  In recent years, Kirk has helped establish Omega as a leader in the warehousing/distribution market in the South East while completing almost 6 million sf in the past 3 years. His most recent distribution projects include Chesterfield's Georgia International Trade Center and Anatolia Tile & Stone.
In addition to his project management duties, Kirk sits on several committees at Omega including: Business Development Action Committee, Policies and Procedures Committee, Talent Action Committee and the Benevolence Fund Committee.
Kirk and his wife, Emily, reside in East Bend with their two children.  Outside of work, he enjoys being with his family while on the water at the lake or beach and helping on the family farm.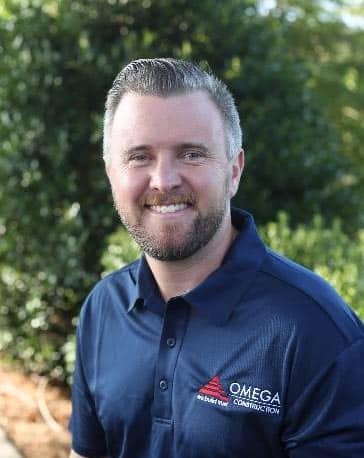 Dustin Hunter – Vice President – Retail Division
Dustin joined Omega Construction in 2012 and has overseen the project management and construction of major retail projects including the 33-acre HanesTowne Village brownfield redevelopment in Winston-Salem, NC.  Additionally, Dustin has overseen the construction of over one million square feet of retail developments in the Southeast.  Some of Dustin's customers include Publix Super Markets, Food Lion, The Crown Companies, Solid Rock Ventures, Crosland Southeast and The Rosemyr Corporation.
Before joining Omega Construction, Dustin spent six years with John S. Clark Company where he served as Project Manager in its retail division.  Dustin is a graduate of North Carolina State University where he earned his Bachelor of Science in Civil Engineering.  He is also a registered Professional Engineer in the state of North Carolina. Dustin participates on the Policies and Procedures committee for the Company.
Dustin resides in Pilot Mountain, NC with his wife, Kirby, and their two daughters.  Outside of work Dustin enjoys playing golf, guitar and spending time with his family.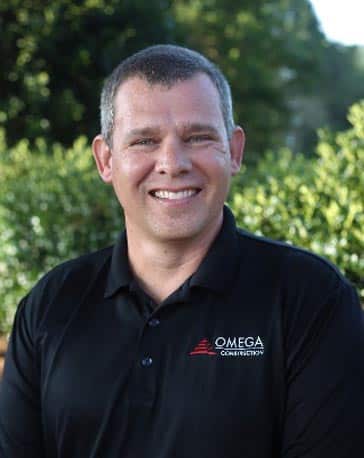 Matthew Cave – Vice President – Triad Division
Matthew joined Omega Construction in 2013, has more than 23 years of construction experience and is a licensed General Contractor in North Carolina.  As a Senior Project Manager, Matthew was responsible for bidding, estimating and managing multiple projects as well as developing and overseeing multiple repeat clients including Target, Lowes Foods, Food Lion, Tommy's Express Car Wash, and several other developer relationships.  Matthew also serves as a mentor in the development of Omega's future project management team.
In addition to his project management duties, Matthew has been involved with the development of Omega's internship program, helping build an internal corporate training program, the Omega "Trust Academy".  Matthew also is involved with the corporate safety program and assists Human Resources with different levels of staffing needs within the organization. He also participates on the Company Safety Committee, Talent Committee and the Workforce Development Committee.
Prior to working for Omega Construction, Matthew worked for John S. Clark Construction in Mount Airy, NC for 10 years as a Project Manager and 6 years for Fred Smith Company Construction in Raleigh, NC.
Matthew has been married to his wife, Emily, for 21 years and they have three daughters.  In his free time he likes helping on the family farm, going to the lake, playing golf, and spending time with his family.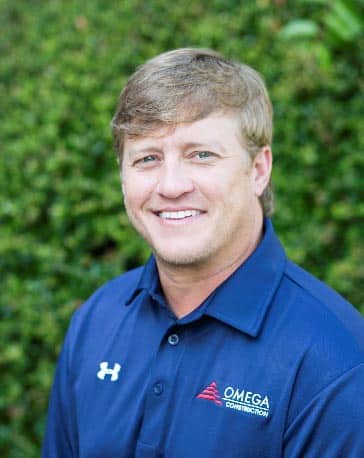 Todd Mayo – Vice President – Georgia Division
Todd joined Omega Construction in May 2018 as the Georgia Division Manager. He is based in Savannah, GA and has full responsibility for the Georgia office. Todd oversees the business development initiatives, marketing, operations, and all construction projects performed by the Georgia office of Omega. Prior to joining Omega, Todd has worked in the Lowcountry for 16 years with two large commercial and residential contractors. Having worked with many top tier companies in the Southeast, he has obtained a broad range of commercial construction knowledge.
With a solid background in Historic Preservation, Todd has expanded his network to succeed in all market sectors around Georgia and South Carolina. Todd's list of clients and projects include Latitude Margaritaville, HOS Hospitality Group, Gulfstream Aerospace, Georgia Ports Authority, Ford Motor Company, Memorial Hospital, Savannah College of Art and Design, and a broad range of historic renovations and award-winning residential homes. Todd has received three Georgia Historic Preservation awards, a Georgia Trust Award and has been featured in both South Magazine and Savannah Magazine for his work.
In addition to managing the GA Office, Todd sits on the Business Development Action Committee as well as the Policies and Procedures Committee for the company.
Todd is a graduate of Armstrong Atlantic State University. He holds his NASCLA accreditation and is currently licensed in Georgia and South Carolina. Todd and his wife, Jenny, reside in Savannah with their two children. Todd is very active in the community. In his free time, he enjoys coaching little league sports, playing golf, cooking, and spending time with his family.