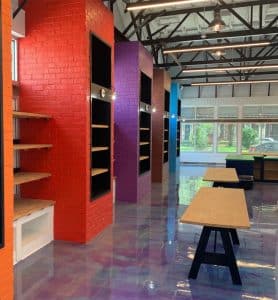 Omega Construction Completes Work on Girl Scout Headquarters
SAVANNAH, GA – Omega Construction's Georgia Division has just completed construction on its latest project, the new Corporate Headquarters and STEM Center of the Girl Scouts of Historic Georgia. The building, located at 535 East Liberty Street, was completely renovated for its new tenants.
"We're thrilled to have a new space for people to come and experience Girl Scouts," said Sue Else, CEO of the Girl Scouts of Historic Georgia. "The STEM Center will be unlike anything we've had before at GSHG, and we are more than ready to give our Girl Scouts another fun, educational, and collaborative environment in Savannah. The center will host programs and be open to every Girl Scout. It will also be a place to relax and shop while experiencing Savannah's many attractions." said Else.
Omega remodeled the building's interior space to accommodate the needs of the Girl Scouts including full interior demolition and new construction of customized offices, bathrooms, public spaces and a retail space featuring modern interior design and finishes. Future plans for the space include a new rock-climbing wall and a fully interactive retail space for the Girl Scouts to utilize. 
"We are grateful for this opportunity to help bring the Girl Scouts' vision for the new headquarters to life. It was a true pleasure to work with Sue Else and her team" said Todd Mayo, Omega's Georgia Division Manager.
"Thanks to the hard work of everyone involved, the new interior truly reflects the spirit and vitality of the Girl Scouts which will no doubt be an inspiration to everyone who visits" said Mayo.
Girl Scouts of Historic Georgia, along with support from volunteers, parents and staff, enriches the lives of over 13,000 girls across the state. Founded in 1912 by Juliette Gordon Low in Savannah, the Girl Scouts still attracts thousands of girls to Savannah for QuestFest, the organization's annual Girl Scout-themed scavenger hunt and festival, as well as to visit the Juliette Gordon Low Birthplace. Other popular Girl Scout landmarks include Juliette Gordon Low's grave at Laurel Grove Cemetery North and the Girl Scouts' First Headquarters on Drayton Street. 
The new Girl Scout center will be opening soon. For more information about Girl Scouts, visit www.gshg.org.
Visit OmegaConstruction.com or call 912-480-0135 for more information.