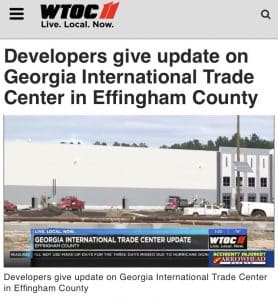 Savannah, Ga. – In the months since the groundbreaking of the Georgia International Trade Center, Omega Construction has been hard at work building the first of several buildings in an ambitious industrial park just off Highway 21 south of Rincon.
"We accomplished something with this building that is almost rarely done," Chance Raehn, Senior vice president of Chesterfield Developers told reporter Sean Evans of WTOC. "We built an 800,000 square foot building in less than seven months."
Often referred to as GITC, the partners in the project include capital partner Stonemont Financial Group, developer Chesterfield Developers, Effingham County Development Authority and Effingham County Commission, the Georgia Ports Authority and Omega Construction.
GITC is Savannah's newest rail served light industrial and manufacturing park. According to the GITC website, there are 1,150 acres located within ten miles of the Georgia Ports Authority Garden City Terminal. The industrial development buildings will range in size from 155,000 to 1,265,000 square feet.
The first tenant is Dalton, Georgia-based flooring company Shaw Industries Group, Inc., one of many companies that will occupy space in the small city of what will one day encompass seven million square feet of light industrial development buildings.
Click here to watch the news segment.
For more information, contact Kelly Gubenko at Omega Construction's Savannah office at
912-480-0135 or by email at [email protected]