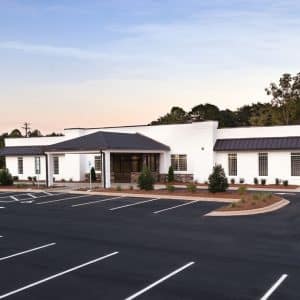 Members of Omega Construction attended the ribbon cutting ceremony of Gentry Funeral Service's newest location in East Bend, North Carolina. The family-owned and operated full-service funeral home was established in 1994 and has two other locations in Yadkinville and Jonesville. 
"Gentry Family Funeral Service is a cherished member of this community and we were honored to be the contractor of choice for their new facility. Their new location will allow them to continue to serve the residents of Yadkin County and their loved ones," said J. Barry Hennings, Omega President. 
The new Gentry Family Funeral Home in East Bend is located on Main Street and will provide a full spectrum of funeral services and support for clients throughout the funeral process.