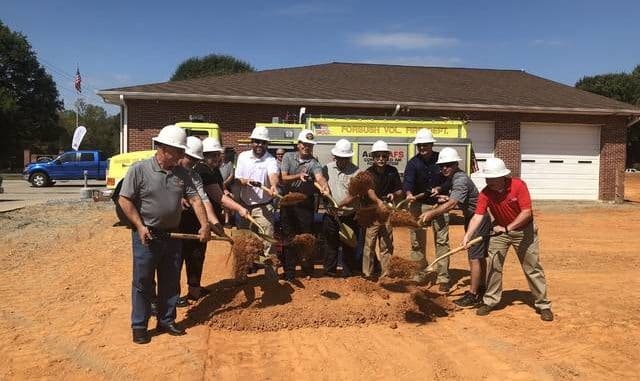 FORBUSH — Thursday was a big day for members of the Forbush Volunteer Fire Department. At noon on Thursday members of the department gathered for a groundbreaking ceremony for their fire station expansion.
"This has been a long time coming," said Forbush Fire Chief Dale Couch. The original fire station was constructed in 1960 and has undergone several small updates since that time. The new expansion will provide additional space to accommodate the fire trucks and other equipment as well as provide space for community gatherings, Couch said.
"We're designing it for the community and the fire department," Couch said.
The building will include three vehicle bays as well as storage areas. Couch said that community trainings as well as voting will take place in the building.
"It wouldn't be possible without the citizens of the district and the backing from the county," Couch added.
County Manager Lisa Hughes spoke briefly at the ceremony, praising the work of leaders in the fire service in Yadkin County.
"The fire service is definitely not what it was five years ago let alone 20 years ago or when this building was built," Hughes said. "We as a county recognize that. We know that our departments are suffering, needing volunteers and space and all the training hours. As a county and with some of our fire chiefs help, we are trying to look at and plan for the future of the fire service looking down the road for the next 15, 20 years so we can be ahead of the curve."
Barry Hennings of Omega Construction also shared a few words.
"We're excited to get this thing started," Hennings said.
On Thursday evening, Forbush Volunteer Fire Department celebrated another major milestone. An announcement was made in the Commissioners' Chambers in the Yadkin County Human Services Building that the department had a achieved a lower ISO rating which will mean lower home owners insurance rates for residents of the Forbush fire district.