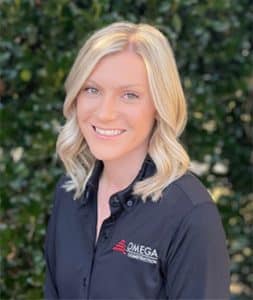 Omega Construction, Inc. Welcomes Amber Luffman as Marketing Coordinator
We are pleased to introduce Amber Luffman who has recently joined our company as Marketing Coordinator. She will be working in our Winston-Salem office. Amber joins us from Lifted High Designs where she was the Owner/Operator.  Before starting her own business, Amber served as the lead graphic designer and email marketing specialist at Ames Walker Hosiery.  Amber's primary responsibilities will be proposal and presentation preparation, graphic design and production, social media and website management, Cosential CRM and multimedia database utilization, as well as administrative support! Amber earned her A.A. in Advertising and Graphic Design at Randolph Community College, where she later taught graphic design courses as an adjunct instructor.
In her free time, Amber enjoys relaxing with her family, writing, and traveling.