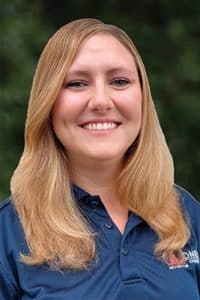 Omega Construction welcomes Stacey Taylor Senior Project Accountant
Stacey is originally from Whiteville, North Carolina but her family moved to Asheboro, North Carolina when she was in middle school. She attended Appalachian State University and received a bachelor's degree in accounting. She misses Boone and loves to get back as often as she can. Stacey now lives in Winston-Salem with her fiancé, Kyle, and two dogs, Mac and Molly.
Outside of work, Stacey enjoys baking, cooking, and more recently, gardening. She is an avid reader and her favorite way to end the day is with a book in hand. She enjoys hiking with Kyle and the pups on the weekends and catching up with friends over coffee or at a brewery.
Stacey has experience in public accounting and manufacturing. Her public accounting experience includes working on a tax team in a smaller firm and her manufacturing experience involves working with a global manufacturer headquartered in North Carolina.