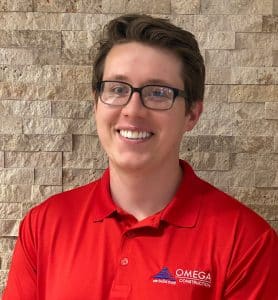 Omega Construction, Inc. Hires Wade Lewis as Controller
WINSTON-SALEM, NC – Omega Construction, Inc. is excited to welcome Wade Lewis as its Controller. Wade joins Omega with five years of public accounting experience. As Controller, Wade will work alongside Omega CFO, Greg Marshall, and is responsible for the accounting operations of Omega including financial reporting, maintenance of accounting records, internal controls and budgeting. He is a Certified Public Accountant and holds a Master's in Accounting from Wake Forest University and a Bachelor of Arts in History from Davidson College.
Omega CFO, Greg Marshall says, "We are excited to have Wade on board as part of the Omega team. Our continued growth has made it necessary for us to add the position of Controller, and we've been fortunate enough to be able hire one of the best young CPA's out there. He brings great experience and enthusiasm and will help fuel our continued growth."
Wade will be working in Omega's Winston-Salem office.