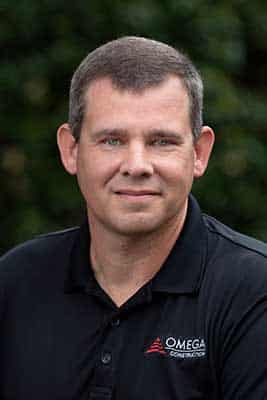 Matthew Cave
Vice President – Triad Division
Matthew joined Omega Construction in 2013, has more than 23 years of construction experience and is a licensed General Contractor in North Carolina. As a Senior Project Manager, Matthew was responsible for bidding, estimating and managing multiple projects as well as developing and overseeing multiple repeat clients including Target, Lowes Foods, Food Lion, Tommy's Express Car Wash, and several other developer relationships. Matthew also serves as a mentor in the development of Omega's future project management team.
In addition to his project management duties, Matthew has been involved with the development of Omega's internship program, helping build an internal corporate training program, the Omega "Trust Academy". Matthew also is involved with the corporate safety program and assists Human Resources with different levels of staffing needs within the organization. He also participates on the Company Safety Committee, Talent Committee and the Workforce Development Committee.
Prior to working for Omega Construction, Matthew worked for John S. Clark Construction in Mount Airy, NC for 10 years as a Project Manager and 6 years for Fred Smith Company Construction in Raleigh, NC.
Matthew has been married to his wife, Emily, for 21 years and they have three daughters. In his free time he likes helping on the family farm, going to the lake, playing golf, and spending time with his family.