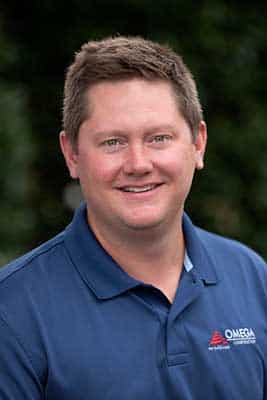 Kirk F. Matthews, P.E.
Vice President – Industrial/Distribution Division
Kirk joined Omega Construction in 2012 as a Project Manager after previously working with John S Clark Company. Kirk is a Registered Professional Engineer in North Carolina and holds a Bachelor of Science degree in Civil Engineering from the University of North Carolina at Charlotte. Kirk has attained the LEED BD+C Accreditation from the US Green Building Council.
Kirk has had the opportunity to lead many different types of projects within the industrial market during his career. Some of the more notable projects include Caesarstone Technologies USA's first US manufacturing facility, multiple projects for Merck Pharmaceuticals and a refrigerated warehouse for Bay Valley Foods. In recent years, Kirk has helped establish Omega as a leader in the warehousing/distribution market in the South East while completing almost 6 million sf in the past 3 years. His most recent distribution projects include Chesterfield's Georgia International Trade Center and Anatolia Tile & Stone.
In addition to his project management duties, Kirk sits on several committees at Omega including: Business Development Action Committee, Policies and Procedures Committee, Talent Action Committee and the Benevolence Fund Committee.
Kirk and his wife, Emily, reside in East Bend with their two children. Outside of work, he enjoys being with his family while on the water at the lake or beach and helping on the family farm.