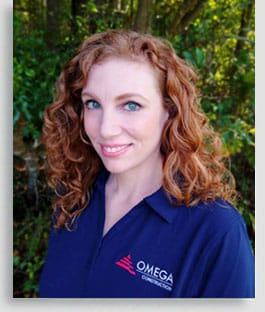 Kelly Gubenko
Marketing and Administrative Assistant
Kelly Gubenko joined Omega in 2018. She is a native of Savannah and graduated from Armstrong Atlantic State University with a degree in Fine Art. Growing up in downtown Savannah instilled in her a deep appreciation for Historic Preservation which led to a career in interior design and a move to Martha's Vineyard to work in a design firm after college. Her strong southern roots eventually drew her back to Savannah, where she worked in marketing for a medical device company for fifteen years. Fascinated by all facets of space planning, design and construction, she sees her new career at Omega as a natural transition where she can use her organizational skills and marketing expertise to support the company's growth.
She is the direct assistant to the Georgia Division Manager, Todd Mayo, and supports the entire Omega Georgia team with contracts, billings, accounting and document control assistance.  In addition, her responsibilities include  a primary role in the marketing and business development functions of the Georgia office
She and her husband, Alex, have three sons and love spending time outdoors as a family.