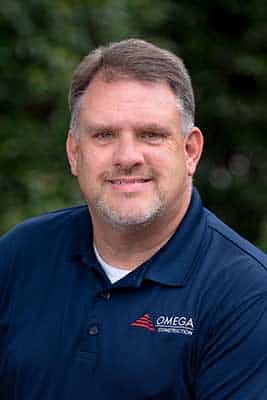 Greg Marshall
Senior Vice President/Chief Financial Officer
Greg Marshall joined Omega Construction in March 2012 as its Chief Financial Officer. As CFO his responsibilities include all financial aspects of Omega's business including accounting, finance, risk management, bonding and banking relationships. He is also responsible for Omega's information technology and human resources while being involved in strategic planning and marketing.
Through working numerous customers over the last 15 years, Mr. Marshall has experience in project financing for a large variety of project types and financing structures and has extensive contacts in the banking and finance industry. In 2015 Mr. Marshall was awarded the Triad Business Journal's Financial Executive of the Year Award.
Prior to joining Omega, Greg served as Senior Vice President and Chief Financial Officer of John S. Clark Company, LLC for 12 years. While at JS Clark he was instrumental in helping JS Clark become a recognized leader in the use of technology by helping develop a cutting-edge field data reporting system and implementing a paperless accounting system in 2002, well before technology was widely used in the construction industry. Prior to joining JS Clark in 2000, Greg worked in Public Accounting with 3 regional and national firms. While working in Public Accounting, he gained significant experience in business consulting, accounting, auditing and taxation for construction and real estate firms along with firms in a wide variety of other industries.
Mr. Marshall graduated Summa Cum Laude from Gardner-Webb University in 1990 with a B.S. in Accounting. He is a certified Public Accountant and a member of the North Carolina Association of Certified Public Accountants and American Institute of Certified Public Accountants. Mr. Marshall is highly respected and recognized as a leader among construction finance professionals in the Southeast. He is a member of the Construction Financial Management Association (CFMA), having served on national committees and as a member of the Board of the Piedmont Triad Chapter. He is also a Board member of the Northwest Piedmont Development Corporation and Surry County Economic Development Partnership. Greg is involved with several community and civic organizations, including being a Board Member and Treasurer of Millennium Charter Academy, Scoutmaster of Boy Scout Troop 596 and a Deacon and Treasurer of Mount Airy Christian Church.